FELLOWSHIP SERVICES  ~ Sunday's at 10:30 a.m. on Facebook Live

Our fellowship hall is  closed due to COVID-19 precautions. We are uncertain when we can resume normal services, and taking it one month at a time.
LOCATION
1410 Airport Rd
Panama City, FL 32405
Corner of Lisenby and Airport Rd.
Info@uuofbaycounty.com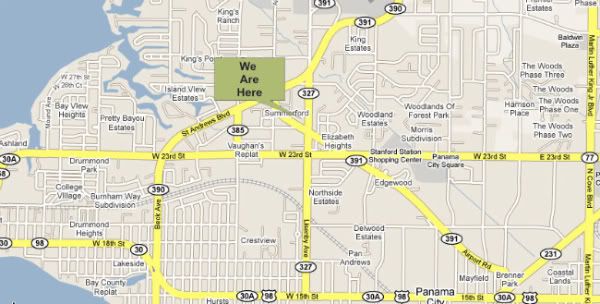 DIRECTIONS
FROM CALLAWAY, PARKER, PANAMA CITY (East of Lisenby Ave.), SPRINGFIELD or TYNDALL AFB:
Follow Tyndall Parkway North until it merges with 15th Street
Follow 15th Street westbound until reaching Lisenby Ave.
Turn Right on Lisenby Ave.
Continue on Lisenby Ave. until reaching Airport Rd.
Turn Left on Airport Rd.
Turn Right at the Unitarian Universalist Fellowship of Bay County
FROM LYNN HAVEN, SOUTHPORT, or NORTH HWY 77:
Follow Hwy 77 South until reaching 14th Street (aka Hwy 390)
Turn Right on 14th Street (aka Hwy 390)
Follow Hwy 390 until reaching Lisenby Ave.
Turn Left on Lisenby Ave.
Follow Lisenby Ave. until reaching Airport Rd.
Turn Right on Airport Rd.
Turn Right at the Unitarian Universalist Fellowship of Bay County
FROM PANAMA CITY (West of Lisenby Ave.) or PANAMA CITY BEACH:
Cross Hathaway Bridge into town
Turn Left on 23rd Street
Follow 23rd Street until reaching Lisenby Ave.
Turn Left at Lisenby Ave.
Turn Left at Airport Rd.
Turn Right at the Unitarian Universalist Fellowship of Bay County